News & Events
A Worldwide Experience Gained from One Location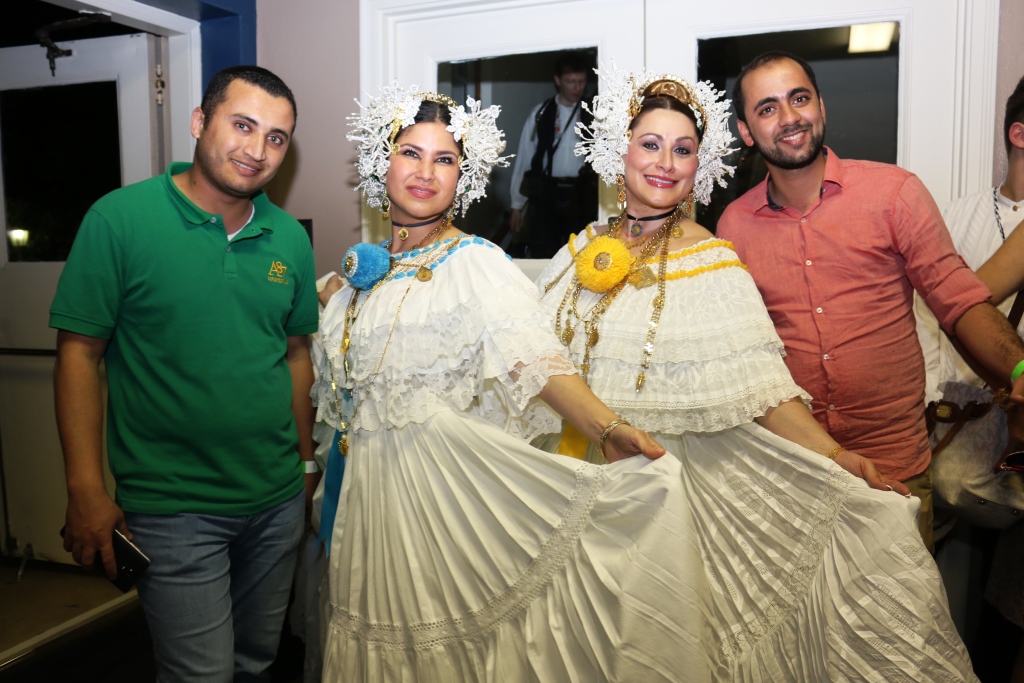 Jordanian Army First Lieutenants Zaid AL-Awawdah (far left) and Basil Al-Amro (far right) pose next to a couple of Panamanian Folk Dancers who performed at the San Antonio Folk Dance Festival. Photo by Annette Janetzke, Public Affairs


Story by 1st Lt. Basil Al-Amro and 1st Lt. Zaid Al-Awawdah, Jordanian Army
On Saturday, March 18, we attended a DLIELC trip arranged by the International Field Studies Office. It was to the 59th An-nual San Antonio Folk Dance Festival held at Our Lady of the Lake University. This was our first time attending a fes-tival like this. It was a really amazing, unique experience full of enthusiasm and energy. We witnessed many different inter-national Folk Dance performances, such as Carpathian, Scot-tish, Turkish, Pana-manian, Serbian, Spanish, Polynesian, Filipino, Mexican, Indian, and American Disco. The experi-ence was just like a journey all around the world. We were amazed by the performances and cultural costumes. It was really the best worldwide experience we have ever had in just one place! Thanks to Milissa Stewart in the DLI Tours Office for this amaz-ing trip, and espe-cially Annette Ja-netzke, Ashley Fu-gett, and Capt. Joy Lawal for escorting us on this trip. We would not have had the pleasure of viewing these perfor-mances if it had not been for aunt, Dr. Samar Al-Amro and father Barjas Taw-feeg who encouraged us to come here and experience all that DLIELC has to offer. We want to send a special thanks to them. We express our best wishes to all Americans.
Student Shares Experience During FSP Botanical Gardens Weekend Tour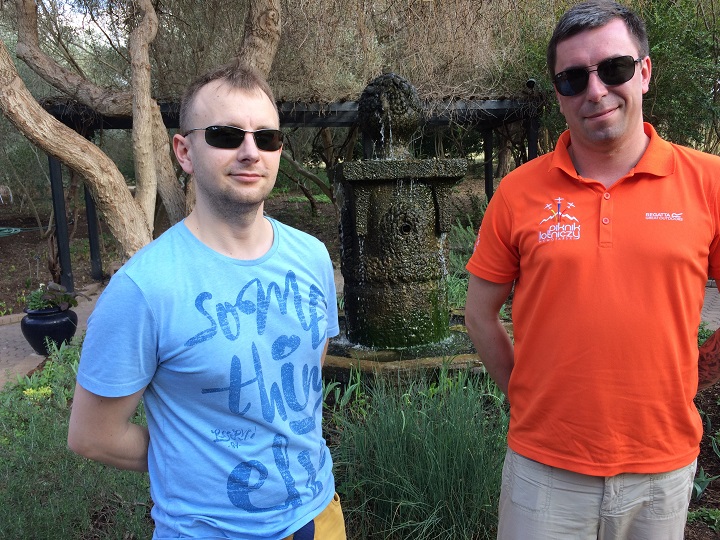 Chelmecki enjoyed the serenity of the gardens with his country-mate, 1st Lt. Ariel Adamski (left).


Story and photos by 2nd Lt. Robert Chelmecki, Poland DLIELC Student, Specialized English
The Field Studies office provided a trip to the San Antonio Botanical Gardens on February 10. I was among 50 students attending this event. I had a chance to enjoy the dazzling array of colors in the formal setting that explores the world of exotic plants and unique species of Texas native flora. This was a great occasion to meet my classmates away from the structured classroom environment of learning while still developing our language skills. We admired the beautiful, peaceful, and pleasantly warm environment of the gardens. What surprised me most was that I met a colleague from Po-land, 1LT Ariel Adamski. We had not had the opportunity to meet and talk because this was my first week at Lackland. So we had a great chance to exchange experiences regarding DLI and take a breather before we returned to school. We are really thankful for this interesting trip and waiting for another one.
Curriculum Flight Validates Four New Training Modules for Specialized English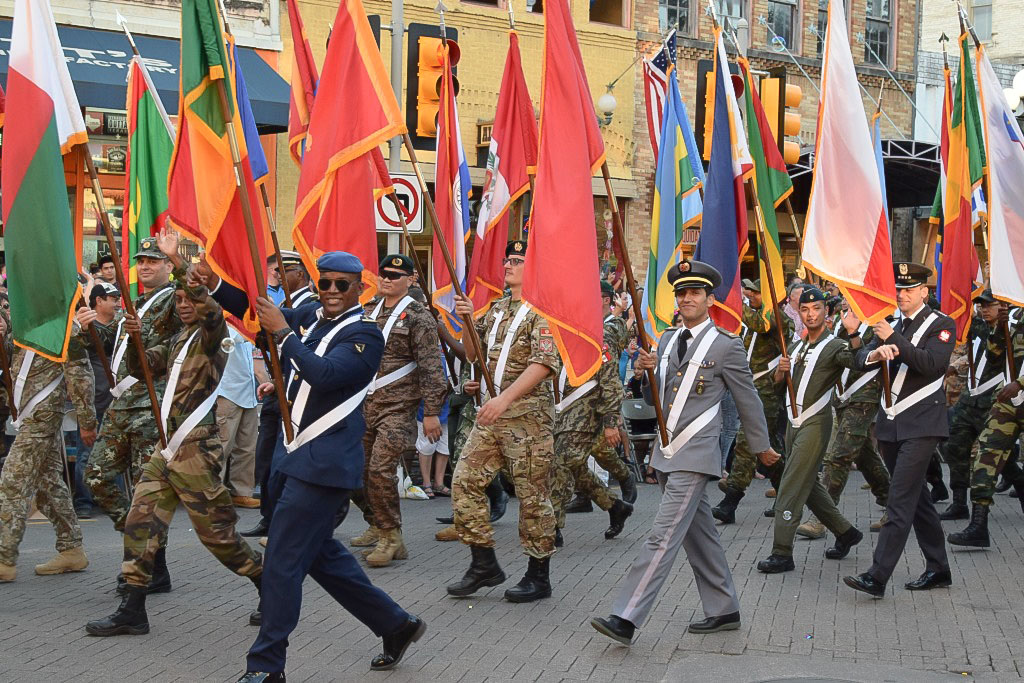 Four new training modules: English Skills for Technical Reading, English Skills for Risk Management and Safety, English Skills for Electronics 1: Basic Electricity, and English Skills for Munitions cre-ated for Specialized English.
Photo by Mike Bender, Chief, Curriculum Flight
By Mike Bender, Chief, Curriculum Flight
Two thousand seventeen has just begun, but it's already shap-ing up to be a big year for Specialized English Training (SET) curriculum. We are proud to announce four new modules that are going into validation this quarter alone: - M202, English Skills for Technical Reading. Topics in-clude How to Read a Technical Manual, Text Struc-tures & Signal Words, Interpreting Visual Infor- mation, and Understanding Procedures & Sequenced Instructions. - M203, English Skills for Risk Management and Safety. Topics include Introduction to Risk Management & Safety, On-Duty Safety, Workplace Hazards, Off-Duty Safety, and World Safety Issues. - M501, English Skills for Electronics 1: Basic Electrici-ty. Topics include Electricity Essentials; Circuits, Conduits & Currents; Tools of the Trade; Types of Energy; Communicating for Clarity; and Mishaps & Incident Reports. - M901, English Skills for Munitions. Topics includes Small-Caliber Ammunition, Grenades & Pyrotech-nics; Projectiles; Bombs, Submunitions & Mines; and Rockets & Missiles. All four of these modules were developed under the new standards for SET curriculum. They are designed to be ex-tremely user-friendly for instructors and students alike. To kick off the validation for these new modules, the SET Curriculum staff will be presenting a detailed briefing to SET instructors and supervisors very soon. We'll use this oppor-tunity to explain the design of the new modules and to de-scribe future projects. In the meantime, please see your supervisor if you are inter-ested in participating in the validation for any of these new modules.
Advanced English Student Discovers the Meaning of "We Heart"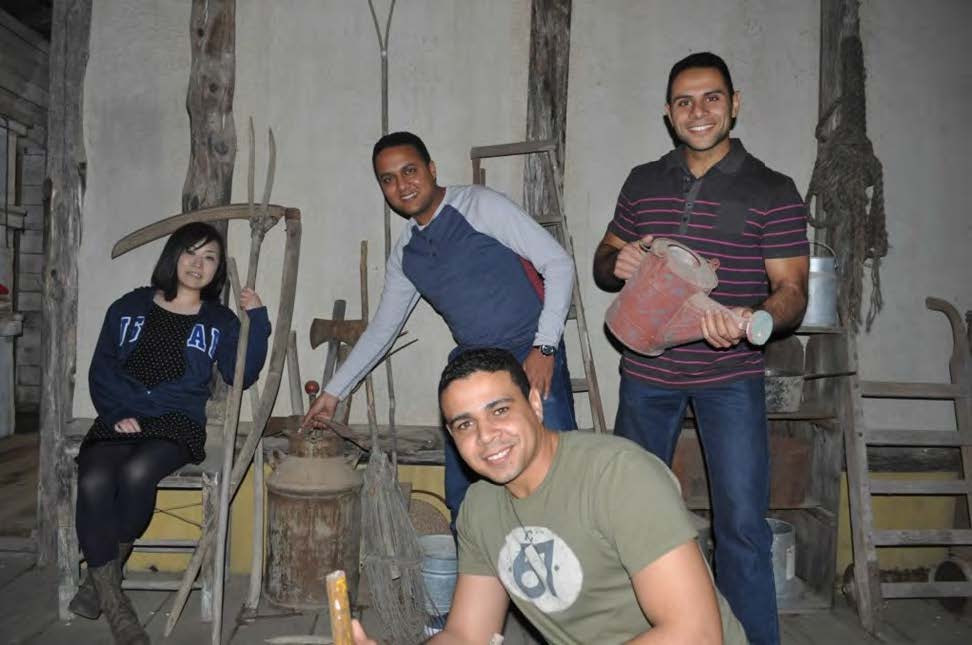 DLIELC international students (left to right: Kumiko Takahashi - Japan, Capt. Hitham Muhammed, Capt. Osama Abdelrahiem, and Major Sameh Fathy - Egypt) discover old west ranch equipment during their visit to the Enchanted Spring Ranch on a International Field Studies weekend tour.
Photo By Annette Janetzke, DLIELC Public Affairs
By Captain Osama Abdelrahiem Egyptian Army
We gathered from different spots on earth at a land far away from home. Although we were sitting very close to each other, differences shadowed the setting. Those who were sitting very close to each other were actually very different in color, religion, habits, traditions, and language. Despite all of these differences, we dis-covered that we are very similar in our approach to life, our ap-proach to peace, and our approach to love. The Lone Star State is the place on Earth that seems very strange from the outside but very familiar from the inside. In Texas, cul-tures mix and melt into one, re-sulting in a unique place that knows the meaning of the "We Heart," and characterizes life. In the Lone Star State, the differ-ences become similarities, the objectives become united, and the language becomes one. It is the language of the "We Heart" not the "I Heart" as stated by the owner of Enchanted Springs Ranch, Steve Schmidt. Recently, we visited Schmidt's unique ranch where we were the "We Heart" of the place. We touched it when we were in a circle, watching different kinds of beautiful creatures walking peacefully in the fields. We spoke one language, and laughed together as we watched a weapon show conducted by a highly skilled Texan cowgirl, Pistol Packin Paula. We listened to some heroic stories about the cowboys and cowgirls, but again, we were listening togeth-er. I wish we could have stopped time, not just to enjoy those un-forgettable moments, but also to let the whole world know the meaning of peace, the meaning of love, the meaning of "We Heart" that embraced us in that place, the "We Heart" that can inspire us to stand against any darkness, TOGETHER.
What is CCV?
Story by Jennifer Jenkins Guest Editor
CCV is the Commandant's Standardization and Evaluations Office. CCV's ultimate goal is to provide meaningful data to commanders so they can make informed decisions that will best suit DLIELC's mission. The mission of CCV is to develop and maintain comprehensive and effective evaluations programs that enhance and promote DLIELC training objectives.
CCV is comprised of two elements: Training Evaluations (TE) and Standard Evaluations (STAN/EVAL). Training Evaluations are internal and external. Internal inspections look at various programs within DLIELC and collect data through End-of-Course surveys, Quick Responses (QR), and comments sheets. Once information is collected, CCV analyzes it and determines if programs are accomplishing the goals that they should. This is then reported back to the commander in charge of that program. External evaluations are done outside of DLIELC in the field. CCV collects data, conducts interviews and analyzes trends in data. This information is also reported back to DLIELC and evaluated as to how to adjust programs to help DLI graduates be more prepared for their follow-on trainings.
CCV has experienced a variety of personnel changes over the last few years but now has a permanent staff assigned to the pro-gram. The CCV chief position is currently vacant so Master Sgt. Daniel Lopez is the acting chief of CCV. His team includes Technical Sgt. Mary Kenyon, Gerri Lee Vigil, Loida Puno, and James Bissell. You can find them in Sebille Hall, Room 135.
BEHIND THE SCENES AT DLIELC RECORDING STUDIO
Story by Marisol Atilano DLIELC English Instructor
DLIELC staff conducted voice recordings for Testing in January at the DLIELC Recording Studio. The recordings will be used for the nonresident ECL forms for the next fiscal year. Auditions for the recordings took place in December, and several staff were selected for this excellent career-broadening opportunity.
"Testing is striving to incorporate a variety of voices for new ECL test forms and, at the same time, increase awareness about the ECL by involving DLIELC staff in some of the behind-the-scenes work that goes into test development," said Lisa Alderete, Language Testing Analyst.
All of the instructors recording were enthusiastic and excited about con-tributing to the mission. "I really enjoyed recording. It was fun to read with emotion, and it's kind of cool that my voice will be heard by ECL test takers around the world!" said Joyce Tupola, Specialized English Instructor.
Ernesto Martinez, who has worked as the Audio Equipment Operator for 30 years at DLIELC, receives immense satisfaction from meeting new peo-ple that work at DLIELC. "DLI has a lot of quality professionals I get to meet when they come to record. We have a lot of fun in the studio, and I take pride in my job," said Martinez.
More Testing recording opportunities will be available throughout the year. If you are interested in participating, please go to the TIP.
Meet the new 637th Training Group Superintendent:SMSgt Carol Sligh
Senior Master Sergeant Carol Sligh assumed responsibilities as the Superin­ tendent, 637th Training Group, on July 23. Sligh hails from the Defense Language Institute Foreign Language Center in Presidio, California, making her no stranger to the security cooperation mission.
Sligh is originally from Afton, Wyoming. She enlisted in the United States Air Force at age eighteen and served as an active duty Security Forces Airman for five years. In the earlier stages of her career, she set her heart on becoming a medic, and that decision led to a transition into the Air Force reserves. After spending five and a half years in the reserves, there was a need for medics in emergency rooms across the Air Force. The young Staff Sergeant landed herself an active duty slot and a new assignment at Davis Motham AFB, Tucson, AZ.
Due to her outstanding military record and years of experience in the service, her commander - a lieutenant colonel - believed Sligh was deserving of a step-promotion. Although she had heard of the step­ promotion program, she was not optimistic about receiving such recognition. Yet, her package was drafted and submitted . While her commander was deployed, Sligh received her step­promotion to Technical Sergeant. This newly acquired stripe forced her to retrain out of her dream job as a medic into her current Air Force Specialty Code, Education and Training.
Shortly after, Sligh received a non-volunteer assignment to JBSA-Lackland 's 37th Training Group where she served as the Instructor Supervisor for the Basic Instructor Course. During her tenure, the Air Force made a push for military training leaders, and with her senior leadership's influence, she applied for the position. As a newly promoted Master Sergeant, she volunteered to become an MTL. She received an assignment to DLIFLC, Presidio, CA, where she served the past five years as the Superintendent of Military Training Leaders. During this assignment, she also earned a promotion to the rank of Senior Master Sergeant.
Now back in her primary specialty, Education and Training, she has assumed the positon as the group superintendent. Although she has been at JBSA-Lackland a few short weeks, Sligh shared her views and perspectives on the 637th Training Group and its servicing squadrons.
When asked what she thinks about the dynamics of the group, Sligh said, "Our mission is very unique. People from all areas of the world come together here in total support of the security cooperation mission. Our manning is also unique with our civilian to military personnel ratio."
She follows and supports the perspectives of our current mission and ision set by the group commander, Colonel Cooper. Her top three priorities as the group superintendent are mission first, family second and progress third. Sligh outlines her priorities in detail, discussing topics such as getting the job done, working as a team, and holding one another accountable. She also explained the importance of taking care of our Airmen, ensuring that they're taking care of themselves, as well as their families.
Sligh hopes to leave the 637th Training Group better than how she found it. She mentioned that in order to accomplish her priorities, she would need the buy-in and support from the top­down which includes our most senior ranking leaders to our most jun ior ranking enlisted members.
"We are a small-staffed military organization . We are so spread out that people don't even know where the others are. In order to build unity and camaraderie, we need open communication on every level. Eventually, I would like to hold a few BBQs, recognize members' birthdays, and reward our folks for doing a good job. We also need to reemphasize our Resiliency Training Program. Teamwork is the focal point to success."
On a personal note, Sligh has two children. Her son, Cameron,just graduated from Monterey High School and is attending the University of California in Santa Cruz. Her daughter, Madison, is attending Stacy High school on JBSA-Lackland.
Meet the new 332 TRS English Instruction Flight Chiefs
By Ezme Kornmeyer
DLIELC English Instructor and Guest Editor
Anne Andersen
Chief Specialized English Flight
Anne Andersen, Chief of Specialized English, was Chief of General English (Section 2) for a year before moving into her current position. In her new post she would like to use her 29 years of DLIELC experience "to provide Specialized English instructors and supervisors with a positive and stable environ-ment so they can focus on their individual professional growth." Ms. Andersen also brings with her lessons that her parents taught her. One in particular is that "God helps those who help themselves." She says, "As a result, my philosophy is that those who work hard, have a good attitude and put forth a good honest effort are the ones who reap the rewards in this life."
Angel BishopPetty
Chief, General English Flight
When General English Section Chief Angel BishopPetty start-ed teaching at DLIELC 24 years ago, she thought it would be a good place to work while finishing graduate school. Although she did not intend to stay, she fell in love with the students and was excited by the many chances to learn and grow by working in different departments in the organization. Her advice to DLIELC staff and students is to always take advantage of opportunities when offered, even if it is something you are not sure you will excel at or enjoy because you may be surprised by what you find. As a personal example, she was hesitant to move into the curriculum department, but soon found herself engrossed in the work and spent the next 14 years as a Specialized Curriculum Project Officer. She emphasized that by moving out of her comfort zone and into other areas within DLIELC, she has been humbled because there is always more to take in. As she has progressed from teacher to Section Chief, Ms. BishopPetty has approached each new role as a learning experience and encourages others to do the same.
Michael Sheridan
Chief, General English Flight
General English Section Chief, Michael Sheridan, who was recently promoted from his position as supervisor in Advanced English, has a clear goal in mind for staff at DLIELC: he would like to create conditions that allow instructors to really excel at their craft. He states that "The whole point of this institution is to deliver an excellent product to our customers and to prepare the students for their follow-on training." Mr. Sheridan empha-sizes quality instruction throughout the organization and has three guiding principles that he learned from his PST trainers nearly ten years ago. First of all, he states that teachers must teach well and do all they can to provide quality instruction. Secondly, they must stay on top of their administrative duties. Finally, instructors must cultivate strong interpersonal and working relationships with other staff members. Mr. Sheridan says these three pillars have guided him throughout his progression from teacher to section chief. He feels that it is imperative to attend to all three because if one is neglected, it really stands out.
READ THE ENTIRE ARTICLE HERE
International Salute to Fiesta San Antonio!

Fifty-eight Nations March as One in Fiesta Flambeau Parade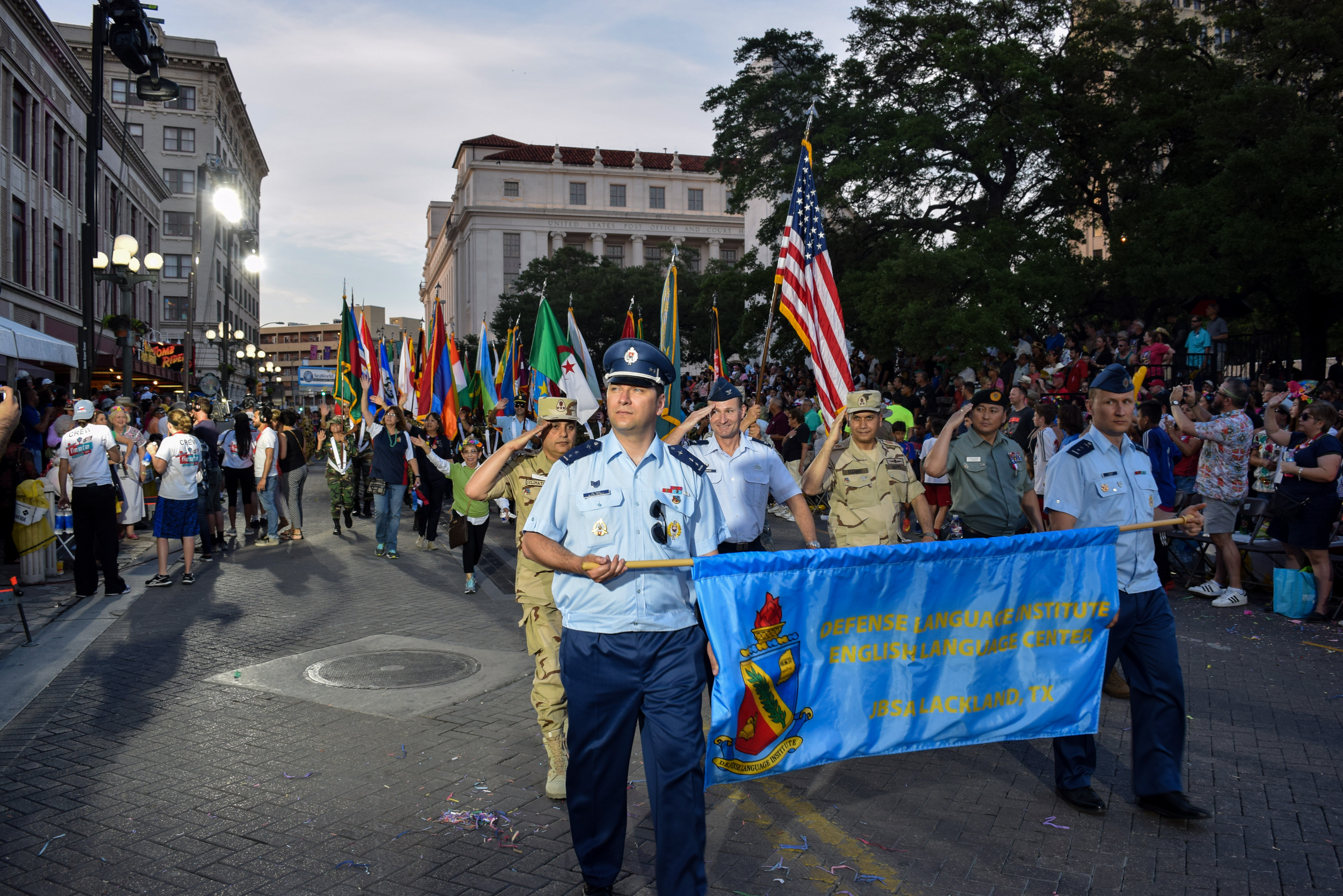 Col. Jeffrey Cooper, DLIELC commandant, and senior students from Egypt, Mongolia, and Indonesia lead the 102 member international student flag formation flight past the Alamo Plaza grandstand and crowds during the San Antonio Fiesta Flambeau parade on April 23.
Photo By Spencer Berry
By Col Jeff Cooper, USAF Commandant, Defense Language Institute English Language Center
In what is growing into a San Antonio tradition, 102 military service members representing 58 countries around the world, from Nigeria to Afghanistan to Ukraine, marched with their national flags in Fiesta Flambeau, the largest illuminated night parade in the nation, during Fiesta San Antonio, 2016. The 2.6 mile twilight tromp through downtown San Antonio is a voluntary cultural enrichment event for the students, who are on temporary duty in San Antonio by invitation of the US Department of Defense. They participate to experience Fiesta and to feel the warm embrace of the people of Military City first-hand.

The Fiesta Flambeau Parade never disappoints. The international parade-marchers had many wonderful impressions to relay to their fellow students and countrymen about Fiesta Flambeau, San Antonians, and the USA in general. One student, Captain Tangara from Mali, said, "I really appreciated when thousands of people told me, 'thank you for your service." Lieutenant Hong from Cambodia remarked, "Everyone in the crowd was cheering for us while we marched and I found it an inspiration; even though we were tired, the cheers and the warm welcome made us energetic. I hope to be a part of this again." Another student, Major Gautam from Nepal, observed, "I am really amazed with the sense of respect and gratitude of US citizens toward the military men and women. I thought it was an outstanding event and I thoroughly enjoyed the parade." Sergeant Ucan from Turkey added, "It was amazing to participate, I felt like a pop star. It was unbelievable to see people thanking us for our service."

These military professionals, in training under Air Education & Training Command and the 37th Training Wing at Joint Base San Antonio-Lackland, are in the United States to master a new language—English. Once they are trained to proficiency in English at Defense Language Institute English Language Center, they advance to technical training or developmental education with the United States military. Other students study advanced English, then return to their homeland as instructors to train members of their military in English using the center's curriculum, the American Language Course.

The Defense Language Institute English Language Center, known by foreign militaries worldwide as "DLI", has been executing its mission training global security partners English for 62 years and counting in San Antonio. The organization is composed of 520 people, mostly Department of the Air Force civilians, and mostly English language teachers, led by active duty military officers and with a military support cadre of 30.

Many DLI graduates from around the world progress to high rank and influence in their military careers. For example, DLI boasts 2 presidents as distinguished alumni, the current President El-Sisi of Egypt, and former President Bambang, the sixth president of Indonesia. Also, scores of DLI graduates have advanced to the general and flag officer ranks in their respective militaries. San Antonio is a common thread for all of them. Nearly 3,000 international students graduate from DLI each year and proceed to training with the US military. Thus the English language training enables enduring relationships between US and international leaders and strengthens Security Cooperation between the US and its many partner nations.

This ongoing Defense Security Cooperation activity happens continually Deep in the Heart of South Texas at the DLI campus. On this lush, quiet corner of JBSA-Lackland, new students arrive every week via the San Antonio International Airport to replace those who are graduating. In the course of a year, military professionals from over 100 partner nations around the world call Texas their home for a few months, and the people of Texas and Military City leave a lasting impression of the goodness of America on each of them.
DLIELC Unveils Wall Of Fame Inductees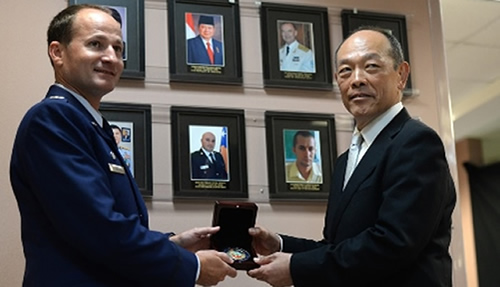 After the induction of 8 Wall Of Fame Alumni, Colonel Jeffrey Cooper, Commandant for DLIELC, presents the Challenge Coin to the participating Alumni, Lt Gen (Ret) Keijiro Hata, Vice Commander of the Japanese Air Defense Command. Photo By SrA Westin Warburton
By Senior Airman Warburton JBSA-Lackland, TX
The DLIELC unveiled their wall of fame inductees Aug. 21, at the DLIELC on JBSA Lackland. "In the 61 years since DLI's English Language Center has been established, there have been many students who have made significant contributions in their countries and in developing positive relationships between the United States and their nations," said Col. Jeffrey Cooper, DLIELC Commandant and 637th Training Group Commander. "We honor today not only those graduates who continue to succeed throughout the world in their careers but also those graduates who have given their lives in the line of duty," Cooper said.
Although some of the alumni have long retired from military or civilian service, many still serve their countries in high level military leadership positions, as advisors to the countries' armed services or in leadership positions within their countries. DLIELC honors these alumni by sharing their name, photo, country, and highest rank/level achieved in support of their countries, on the wall of fame in the main hallway at the DLIELC. "We believe this wall of fame will continue to serve as inspiration for current students as they progress in their studies and inspire them to serve honorably in their nation's services after they graduate," said Cooper.
WALL of FAME videos of Col Cooper and Lt Gen Hata
Key Stakeholders Meet at English Language Program Working Group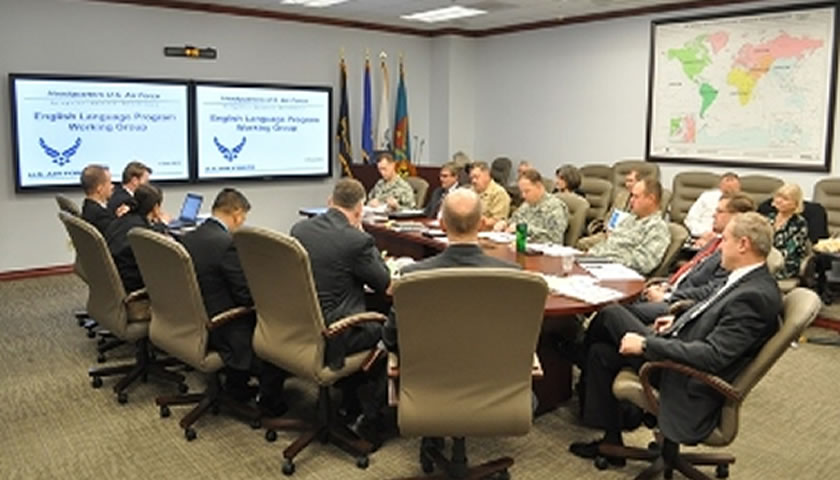 Fansz, DLI key personnel, and personnel from DSCA, the Defense Language and National Security Education Office, AETC, AFSAT, SATFA, and NETSAFA gathered in the DLI Conference Center to conduct an English Language Program Working Group. Photo By Spencer Berry
During the English Language Program Working Group (ELPWG) meeting on February 11, DLIELC's key stakeholders in the English lan-guage training mission assembled and discussed several important topics. During DLIELC's portion, the organization introduced the Commandant-approved Strategic Plan which will be officially unveiled at the March Commandant's Call. We shared that this plan provides direction in academic, program manage-ment, outreach, and institutional areas. Monitoring the implementation of the plan will be conducted through a series of working groups and boards which will also serve to improve inter-nal accountability. Finally, we suggested that the leaders from the various military departments can assist us by identifying emerging or changing requirements, supporting DLIELC engagement at follow-on training locations, and bringing DLIELC into their initiatives early—we are here to enable their programs.
READ THE ENTIRE ARTICLE HERE
AMIGO program turns sponsorship into friendship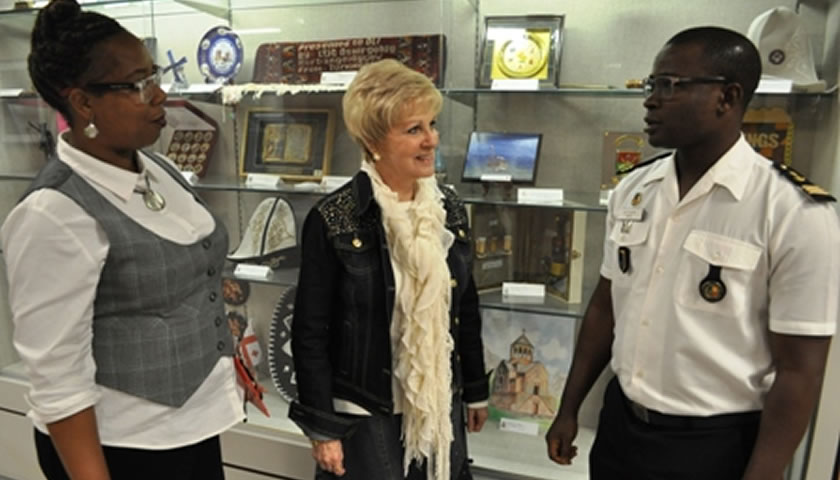 Dawna Hollie (left), Ambassador of International Goodwill to Others (AMIGO) program manager, speaks with Jan Hall (center), an AMIGO sponsorship program volunteer, and Lieutenant Aboudou Ganihou Fadikpe (right), a Defense Language Institute English Language Center student at Joint Base San Antonio-Lackland. Photo by Spencer Berry
By Airman First Class Justine Rho JBSA-Lackland Public Affairs
The Defense Language Institute English Language Center at Joint Base San Antonio-Lackland drives the American Members of International Goodwill to Others, or AMIGO, sponsorship program to create an outlet for students to better learn about American culture and practice the English language. In creating this channel of communication, between students and volunteer sponsors, both parties mutually benefit in international relations and personable communication.
As provided by the DLIELC web-page, under the U.S. Security Assistance Program, the school's mission is to teach English to international military members; with tailored courses that address the specific language requirements of those students' career field. The DLIELC has students from more than 90 different nations at the school at any given time.
READ THE ENTIRE ARTICLE HERE
.