News & Events
Curriculum Flight Validates Four New Training Modules for Specialized English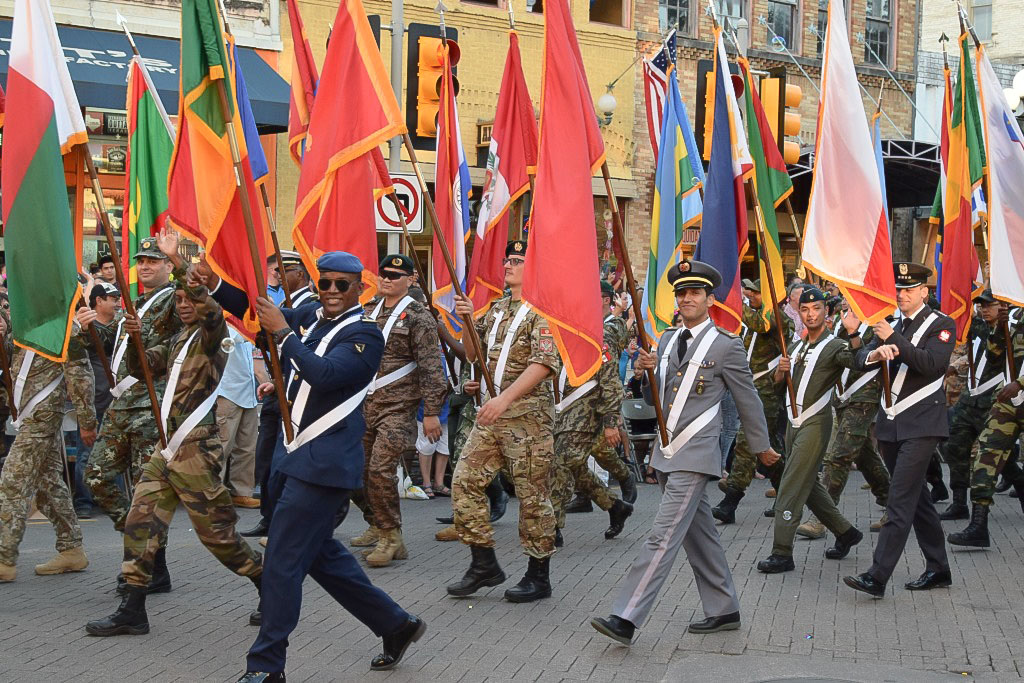 Four new training modules: English Skills for Technical Reading, English Skills for Risk Management and Safety, English Skills for Electronics 1: Basic Electricity, and English Skills for Munitions cre-ated for Specialized English.
Photo by Mike Bender, Chief, Curriculum Flight
By Mike Bender, Chief, Curriculum Flight Egyptian Army
Two thousand seventeen has just begun, but it's already shap-ing up to be a big year for Specialized English Training (SET) curriculum. We are proud to announce four new modules that are going into validation this quarter alone: - M202, English Skills for Technical Reading. Topics in-clude How to Read a Technical Manual, Text Struc-tures & Signal Words, Interpreting Visual Infor- mation, and Understanding Procedures & Sequenced Instructions. - M203, English Skills for Risk Management and Safety. Topics include Introduction to Risk Management & Safety, On-Duty Safety, Workplace Hazards, Off-Duty Safety, and World Safety Issues. - M501, English Skills for Electronics 1: Basic Electrici-ty. Topics include Electricity Essentials; Circuits, Conduits & Currents; Tools of the Trade; Types of Energy; Communicating for Clarity; and Mishaps & Incident Reports. - M901, English Skills for Munitions. Topics includes Small-Caliber Ammunition, Grenades & Pyrotech-nics; Projectiles; Bombs, Submunitions & Mines; and Rockets & Missiles. All four of these modules were developed under the new standards for SET curriculum. They are designed to be ex-tremely user-friendly for instructors and students alike. To kick off the validation for these new modules, the SET Curriculum staff will be presenting a detailed briefing to SET instructors and supervisors very soon. We'll use this oppor-tunity to explain the design of the new modules and to de-scribe future projects. In the meantime, please see your supervisor if you are inter-ested in participating in the validation for any of these new modules.
Advanced English Student Discovers the Meaning of "We Heart"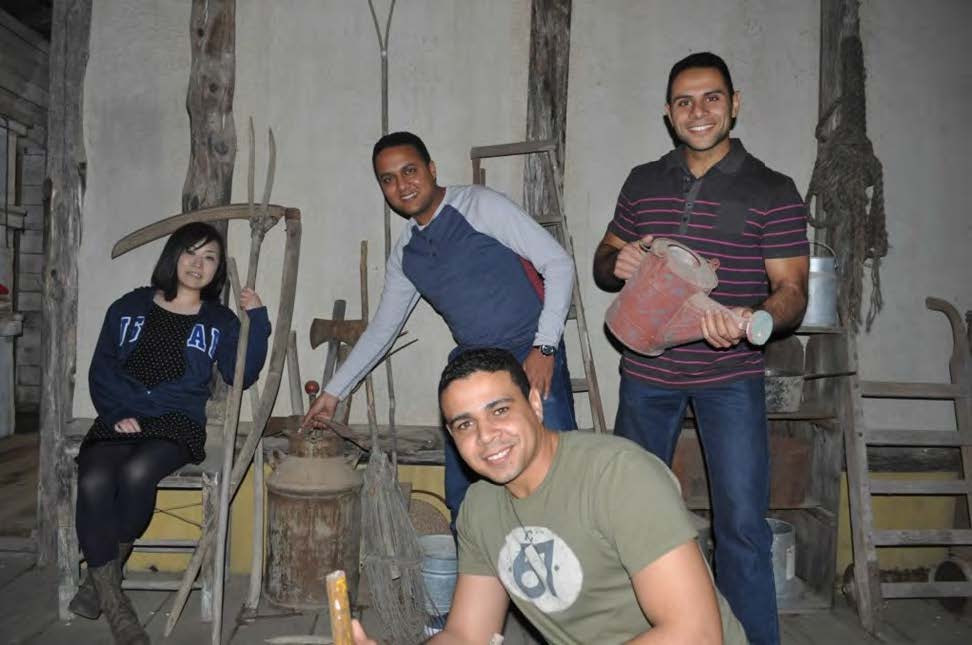 DLIELC international students (left to right: Kumiko Takahashi - Japan, Capt. Hitham Muhammed, Capt. Osama Abdelrahiem, and Major Sameh Fathy - Egypt) discover old west ranch equipment during their visit to the Enchanted Spring Ranch on a International Field Studies weekend tour.
Photo By Annette Janetzke, DLIELC Public Affairs
By Captain Osama Abdelrahiem Egyptian Army
We gathered from different spots on earth at a land far away from home. Although we were sitting very close to each other, differences shadowed the setting. Those who were sitting very close to each other were actually very different in color, religion, habits, traditions, and language. Despite all of these differences, we dis-covered that we are very similar in our approach to life, our ap-proach to peace, and our approach to love. The Lone Star State is the place on Earth that seems very strange from the outside but very familiar from the inside. In Texas, cul-tures mix and melt into one, re-sulting in a unique place that knows the meaning of the "We Heart," and characterizes life. In the Lone Star State, the differ-ences become similarities, the objectives become united, and the language becomes one. It is the language of the "We Heart" not the "I Heart" as stated by the owner of Enchanted Springs Ranch, Steve Schmidt. Recently, we visited Schmidt's unique ranch where we were the "We Heart" of the place. We touched it when we were in a circle, watching different kinds of beautiful creatures walking peacefully in the fields. We spoke one language, and laughed together as we watched a weapon show conducted by a highly skilled Texan cowgirl, Pistol Packin Paula. We listened to some heroic stories about the cowboys and cowgirls, but again, we were listening togeth-er. I wish we could have stopped time, not just to enjoy those un-forgettable moments, but also to let the whole world know the meaning of peace, the meaning of love, the meaning of "We Heart" that embraced us in that place, the "We Heart" that can inspire us to stand against any darkness, TOGETHER.
Sparks Retires After 24 years of Active Duty Service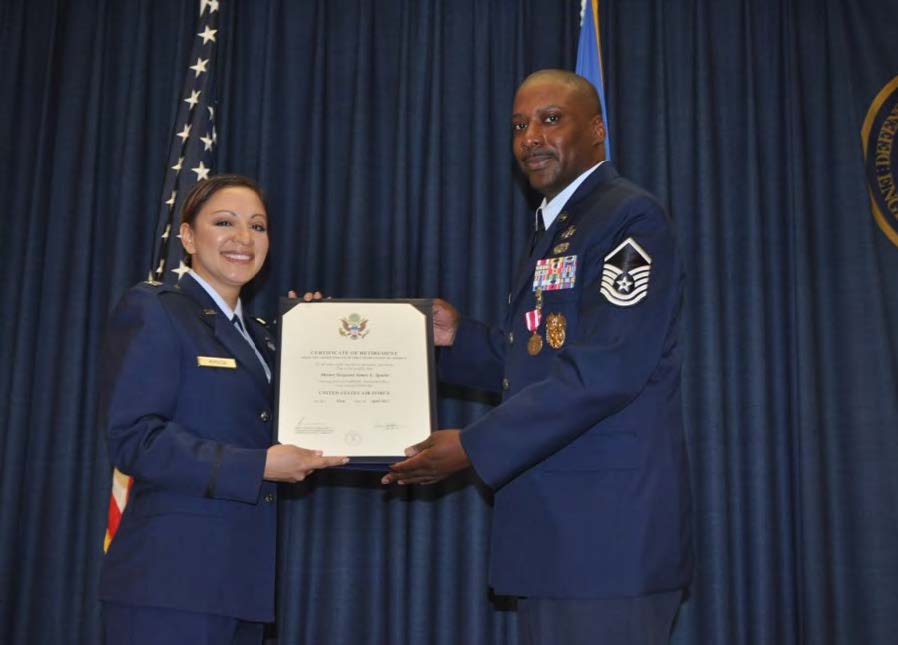 Master Sgt. James Sparks (right) receiving his official Certificate of Retirement from Capt. Monica Verdoza, Executive Officer, 37th Training Wing, who officiated the ceremony.
Photo By Annette Janetzke
By Annette Janetzke, DLIELC Public Affairs
Sgt James L. Sparks retired after 24 years of service in the United States Air Force. After joining the Air Force in 1993, his first assign-ment was with 78th Security Forces Squadron, Robins Air Force Base, Georgia. His next as-signment was at Kadena AB, Okinawa, Japan, where he met his wife, Hatsumi. They have been married for 20 years and have three children.

After Japan, he received an assignment to the 91st Security Forces Group, Minot AFB, North Dakota. He eventually cross-trained out of Se-curity Forces and applied for a remote assign-ment in Osan, Korea. He moved back to Japan and was stationed at Yokota AB. He served a duty at Royal Air Force Mildenhall, England, and returned to Yokota AB, Japan. In 2013, he received an assignment to DLIELC to work un-der the former commandant, Colonel Richard Anderson. For a period of time, Colonel Ander-son designated him as acting first sergeant. After his tour at DLIELC, he reported for a new assignment in the Inspector General's office in 2015.

MSgt Sparks is known throughout DLI as a selfless, giving, caring person. He has been characterized as being a most trusted airman with a sincere heart and an absolute professional. Of his time with DLI, MSgt Sparks said, "I abso- lutely believe in the mission of DLI and what they are accom-plishing." He enjoyed his time at DLI and appreciates all he learned and the friends he made.





Meet the new 332 TRS English Instruction Flight Chiefs
By Ezme Kornmeyer
DLIELC English Instructor and Guest Editor
Anne Andersen
Chief Specialized English Flight
Anne Andersen, Chief of Specialized English, was Chief of General English (Section 2) for a year before moving into her current position. In her new post she would like to use her 29 years of DLIELC experience "to provide Specialized English instructors and supervisors with a positive and stable environ-ment so they can focus on their individual professional growth." Ms. Andersen also brings with her lessons that her parents taught her. One in particular is that "God helps those who help themselves." She says, "As a result, my philosophy is that those who work hard, have a good attitude and put forth a good honest effort are the ones who reap the rewards in this life."
Angel BishopPetty
Chief, General English Flight
When General English Section Chief Angel BishopPetty start-ed teaching at DLIELC 24 years ago, she thought it would be a good place to work while finishing graduate school. Although she did not intend to stay, she fell in love with the students and was excited by the many chances to learn and grow by working in different departments in the organization. Her advice to DLIELC staff and students is to always take advantage of opportunities when offered, even if it is something you are not sure you will excel at or enjoy because you may be surprised by what you find. As a personal example, she was hesitant to move into the curriculum department, but soon found herself engrossed in the work and spent the next 14 years as a Specialized Curriculum Project Officer. She emphasized that by moving out of her comfort zone and into other areas within DLIELC, she has been humbled because there is always more to take in. As she has progressed from teacher to Section Chief, Ms. BishopPetty has approached each new role as a learning experience and encourages others to do the same.
Michael Sheridan
Chief, General English Flight
General English Section Chief, Michael Sheridan, who was recently promoted from his position as supervisor in Advanced English, has a clear goal in mind for staff at DLIELC: he would like to create conditions that allow instructors to really excel at their craft. He states that "The whole point of this institution is to deliver an excellent product to our customers and to prepare the students for their follow-on training." Mr. Sheridan empha-sizes quality instruction throughout the organization and has three guiding principles that he learned from his PST trainers nearly ten years ago. First of all, he states that teachers must teach well and do all they can to provide quality instruction. Secondly, they must stay on top of their administrative duties. Finally, instructors must cultivate strong interpersonal and working relationships with other staff members. Mr. Sheridan says these three pillars have guided him throughout his progression from teacher to section chief. He feels that it is imperative to attend to all three because if one is neglected, it really stands out.
READ THE ENTIRE ARTICLE HERE
International Salute to Fiesta San Antonio!

Fifty-eight Nations March as One in Fiesta Flambeau Parade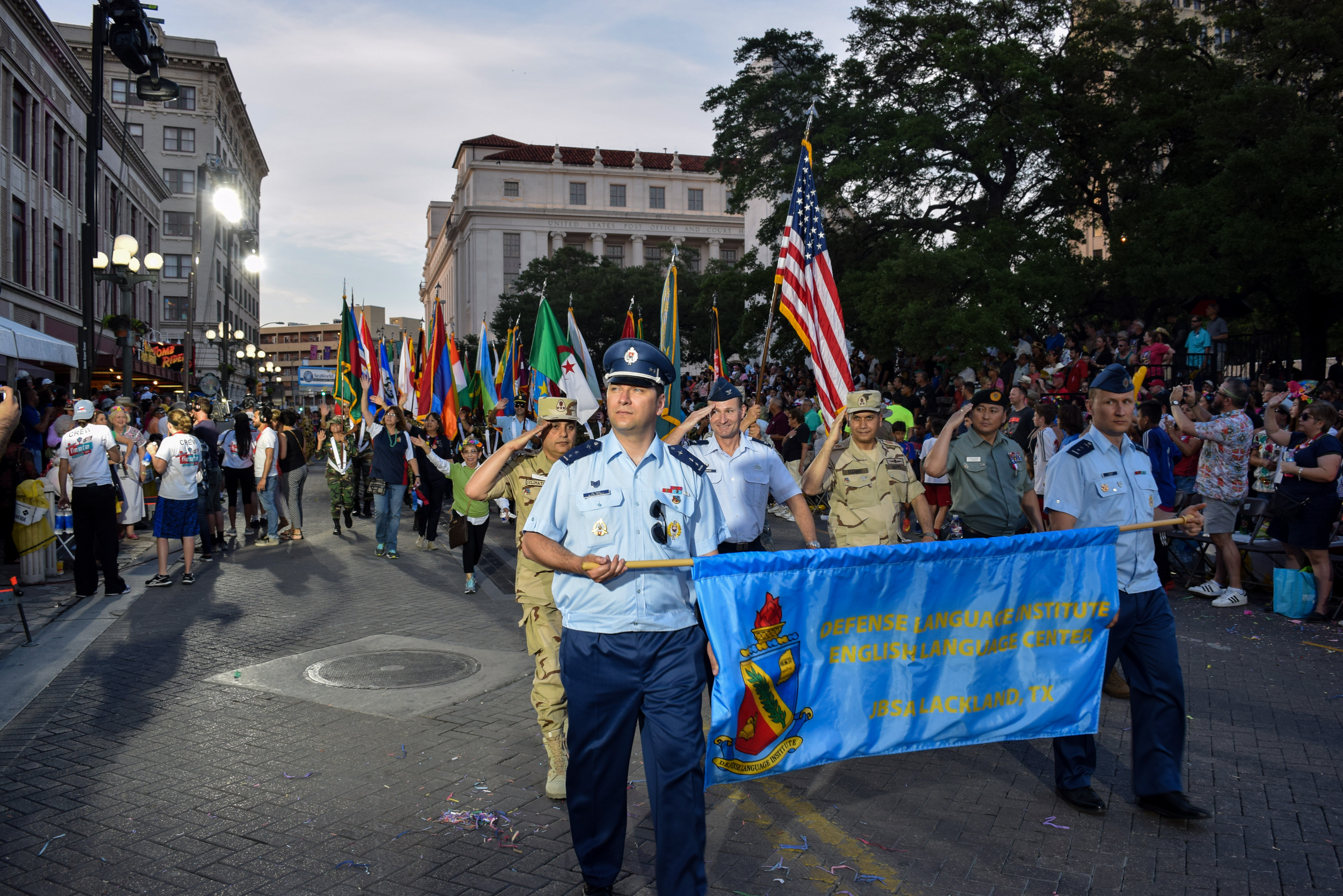 Col. Jeffrey Cooper, DLIELC commandant, and senior students from Egypt, Mongolia, and Indonesia lead the 102 member international student flag formation flight past the Alamo Plaza grandstand and crowds during the San Antonio Fiesta Flambeau parade on April 23.
Photo By Spencer Berry
By Col Jeff Cooper, USAF Commandant, Defense Language Institute English Language Center
In what is growing into a San Antonio tradition, 102 military service members representing 58 countries around the world, from Nigeria to Afghanistan to Ukraine, marched with their national flags in Fiesta Flambeau, the largest illuminated night parade in the nation, during Fiesta San Antonio, 2016. The 2.6 mile twilight tromp through downtown San Antonio is a voluntary cultural enrichment event for the students, who are on temporary duty in San Antonio by invitation of the US Department of Defense. They participate to experience Fiesta and to feel the warm embrace of the people of Military City first-hand.

The Fiesta Flambeau Parade never disappoints. The international parade-marchers had many wonderful impressions to relay to their fellow students and countrymen about Fiesta Flambeau, San Antonians, and the USA in general. One student, Captain Tangara from Mali, said, "I really appreciated when thousands of people told me, 'thank you for your service." Lieutenant Hong from Cambodia remarked, "Everyone in the crowd was cheering for us while we marched and I found it an inspiration; even though we were tired, the cheers and the warm welcome made us energetic. I hope to be a part of this again." Another student, Major Gautam from Nepal, observed, "I am really amazed with the sense of respect and gratitude of US citizens toward the military men and women. I thought it was an outstanding event and I thoroughly enjoyed the parade." Sergeant Ucan from Turkey added, "It was amazing to participate, I felt like a pop star. It was unbelievable to see people thanking us for our service."

These military professionals, in training under Air Education & Training Command and the 37th Training Wing at Joint Base San Antonio-Lackland, are in the United States to master a new language—English. Once they are trained to proficiency in English at Defense Language Institute English Language Center, they advance to technical training or developmental education with the United States military. Other students study advanced English, then return to their homeland as instructors to train members of their military in English using the center's curriculum, the American Language Course.

The Defense Language Institute English Language Center, known by foreign militaries worldwide as "DLI", has been executing its mission training global security partners English for 62 years and counting in San Antonio. The organization is composed of 520 people, mostly Department of the Air Force civilians, and mostly English language teachers, led by active duty military officers and with a military support cadre of 30.

Many DLI graduates from around the world progress to high rank and influence in their military careers. For example, DLI boasts 2 presidents as distinguished alumni, the current President El-Sisi of Egypt, and former President Bambang, the sixth president of Indonesia. Also, scores of DLI graduates have advanced to the general and flag officer ranks in their respective militaries. San Antonio is a common thread for all of them. Nearly 3,000 international students graduate from DLI each year and proceed to training with the US military. Thus the English language training enables enduring relationships between US and international leaders and strengthens Security Cooperation between the US and its many partner nations.

This ongoing Defense Security Cooperation activity happens continually Deep in the Heart of South Texas at the DLI campus. On this lush, quiet corner of JBSA-Lackland, new students arrive every week via the San Antonio International Airport to replace those who are graduating. In the course of a year, military professionals from over 100 partner nations around the world call Texas their home for a few months, and the people of Texas and Military City leave a lasting impression of the goodness of America on each of them.
DLIELC deputy commandant retires after a remarkable 30-year military service.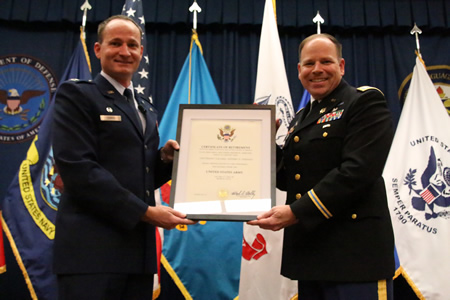 Lt. Col. Jeffery Steffen, former deputy commander of the Defense Language Institute English Language Center at Joint Base San Antonio-Lackland, receives a certificate of appreciation from Col. Jeffery Cooper, DLIELC commandant and 673th Training Group commander during Steffen's retirement ceremony Jan. 30, 2016. Steffen returned to DLIELC soon after his military retirement to become an English instructor.
Photo By 2nd Lt. Nadejda Mocan
Commentary by 2Lt Nadejda Mocan 22nd Peacekeeping Battalion
2/24/2016 - JOINT BASE SAN ANTONIO-LACKLAND, Texas

   The retirement ceremony of Lt. Col. Jeffery D. Steffen, deputy commander, Defense Language Institute English Language Center and commander of the associated U.S. Army element, took place Jan. 30,  after a remarkable 30-year military career

The day before, Steffen pleasantly offered one of DLI's international students the opportunity to make a flashback on his career and interview him. From the very first moment, I could tell that he was truly dedicated to his profession and served his country and its people with dignity. Even the purpose that got him in the army was noble. "I believed it is important that some choose to serve so that others have a choice not to. Some countries still have mandatory military service and it is important for people to volunteer so that others don't have to," said Steffen. 

We started with a glimpse at the beginning and nostalgically discussed the first years of Steffen's military service. He enlisted in the U.S. Army Reserve in January 1986, completing Basic Combat Training and Advanced Individual Training at Fort Jackson, South Carolina. In 1992, Steffen culminated his military training with the Distinguished Military Graduate title from the Reserve Officer Training Corps at Weber State University, Ogden, Utah and entered active duty as a second lieutenant in the infantry at Fort Carson, Colorado. That period was quite an experience: he became an accomplished platoon leader, jumped out of airplanes, and completed Army Ranger School. That training took place during the coldest period of the year, from January through March, which was a tough lesson for him during his career. All that shaped and formed a young professional who, after four years, transitioned to the Military Intelligence Corps. 

Shaping assignments as a captain traces back to the time when  Steffen was a French instructor at the U.S. Military Academy, West Point, New York. During those two years of teaching, he was very demanding of his students by giving them daily quizzes; he remembered those good old times and considered them a great experience.

The next part of Steffen's career was centric Europe. First, he spent a year in Paris where he graduated from the French Joint War College. During the next phase, he was entrusted with key military intelligence positions such as the Chief of the Analytical Control Element for the 7th Army/U.S. Army in Europe, then headquartered in Heidelberg, Germany, followed by the Battalion Executive Officer in Darmstadt, Germany. During that period, he was twice deployed to Afghanistan, both tours were in the Intelligence Analysis Section at the International Security Assistance Force Joint Command in Kabul. Those deployments Steffen considered very important for his professional development: "I gained a lot of things that I inflicted on DLI, such as work in groups and strategic planning."

The last assignment as the Deputy Commandant of the Defense Language Institute English Language Center would be memorable for Steffen because he enjoyed meeting professional instructors, supervisors and program managers, as well as interacting with students. He tried to visit classes every week and share the same powerful message: "If you want to be strong physically, you go to the gym and if you want to have strong English muscles, homework is how you exercise them." He would also say that academic reading and critical thinking in English were crucial for students in order to develop advanced proficiency in their foreign language.

 Steffen outlined the importance for the students to build amiable relationships and for the instructors to appreciate the important role of DLI, something that all of them would take in their future careers. Knowledge accumulated during that period which made students emerge as honored graduates on DLI's wall of fame.

The fact that Steffen took the position of Deputy Commander at DLI with a linguistic background prompted him to actively participate with the entire dynamics taking place there. During his two years and a half at mission, one of the main contributions was the expansion of the training sessions for the DLI's staff that entrusted them as worthy representatives abroad. Professional experience was something they brought back and implemented either in the classrooms or in their future curriculum training.

What was important to outline was the fact that Steffen stood not only as an extremely professional, dedicated, and responsible officer, but also as a loving and caring husband, and a proud father to four children. He took pride in talking about his eldest daughter, a happily married woman who brought joy to her father with two grandchildren. His second child, a son, is a sophomore at Texas University studying animal science. His third child, a 19-year-old son, is a church missionary, just as Steffen used to be. And his fourth son, a 14-year-old, enjoys playing the trombone and walking in his father's footsteps.  Steffen's marriage has approached the impressive number of 26 years, and the woman that stood by him during all that time and made it a happy journey was his wife Lisa.

As a loving husband, he courteously expressed his gratitude for all her support along the way through; a simple but touching gesture during his retirement ceremony, such as a beautiful bouquet of flowers handed to her, accompanied by his grateful speech, stood proof of his good nature and generous personality. His heartfelt speech brought tears to the audience's eyes and left everyone speechless. Steffen successfully managed to mingle his professional profile with his personal aspects of life: "It is always good, when you get done with your day, to go home to an environment of special relationship, where you can relax and not worry about managing tasks."

As  Steffen says - "If everything collapses into place ..." - he will continue his mission at DLI in a new capacity, as civilian instructor of English. The valued addition that he will represent to the DLI teaching environment will reflect the light of his previous expertise in the field of training and mentoring others. With a smile on his face, he remembered the academic years at West Point as a French teacher. 

Steffen is a great professional that I personally look up to and consider one of the most motivating people I have met through my career so far. Many other students that will have an opportunity to come to DLI will be honored to meet Steffen and gain not only knowledge in the linguistic domain but also in the professional and personal ones as well.

Steffen sees DLI in 10 years as an emerging and highly technologically developed educational facility that is reflective of the population's diversity. He outlines empathy being extremely necessary and a core value for good communication, as is transparency and the ability to appreciate the other environmental variables that are occurring. "Focus first on your responsibilities, then on your rights" was his concluding message to DLI's staff and students as well.

DLIELC Unveils Wall Of Fame Inductees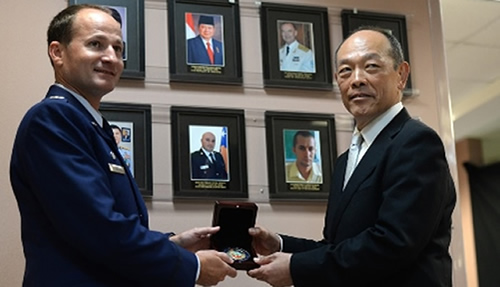 After the induction of 8 Wall Of Fame Alumni, Colonel Jeffrey Cooper, Commandant for DLIELC, presents the Challenge Coin to the participating Alumni, Lt Gen (Ret) Keijiro Hata, Vice Commander of the Japanese Air Defense Command. Photo By SrA Westin Warburton
By Senior Airman Warburton JBSA-Lackland, TX
The DLIELC unveiled their wall of fame inductees Aug. 21, at the DLIELC on JBSA Lackland. "In the 61 years since DLI's English Language Center has been established, there have been many students who have made significant contributions in their countries and in developing positive relationships between the United States and their nations," said Col. Jeffrey Cooper, DLIELC Commandant and 637th Training Group Commander. "We honor today not only those graduates who continue to succeed throughout the world in their careers but also those graduates who have given their lives in the line of duty," Cooper said.
Although some of the alumni have long retired from military or civilian service, many still serve their countries in high level military leadership positions, as advisors to the countries' armed services or in leadership positions within their countries. DLIELC honors these alumni by sharing their name, photo, country, and highest rank/level achieved in support of their countries, on the wall of fame in the main hallway at the DLIELC. "We believe this wall of fame will continue to serve as inspiration for current students as they progress in their studies and inspire them to serve honorably in their nation's services after they graduate," said Cooper.
WALL of FAME videos of Col Cooper and Lt Gen Hata
Key Stakeholders Meet at English Language Program Working Group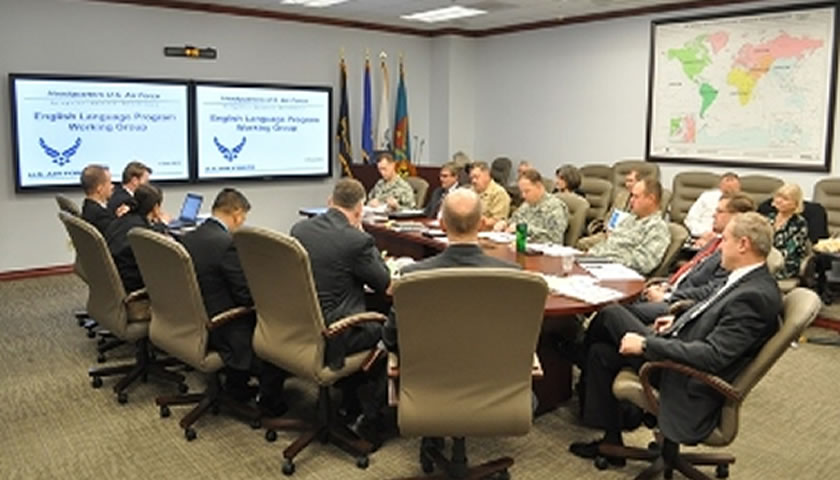 Fansz, DLI key personnel, and personnel from DSCA, the Defense Language and National Security Education Office, AETC, AFSAT, SATFA, and NETSAFA gathered in the DLI Conference Center to conduct an English Language Program Working Group. Photo By Spencer Berry
By LTC Jeffery Steffen DLI's Deputy Commandant and Army Element Commander
During the English Language Program Working Group (ELPWG) meeting on February 11, DLIELC's key stakeholders in the English lan-guage training mission assembled and discussed several important topics. During DLIELC's portion, the organization introduced the Commandant-approved Strategic Plan which will be officially unveiled at the March Commandant's Call. We shared that this plan provides direction in academic, program manage-ment, outreach, and institutional areas. Monitoring the implementation of the plan will be conducted through a series of working groups and boards which will also serve to improve inter-nal accountability. Finally, we suggested that the leaders from the various military departments can assist us by identifying emerging or changing requirements, supporting DLIELC engagement at follow-on training locations, and bringing DLIELC into their initiatives early—we are here to enable their programs.
READ THE ENTIRE ARTICLE HERE
AMIGO program turns sponsorship into friendship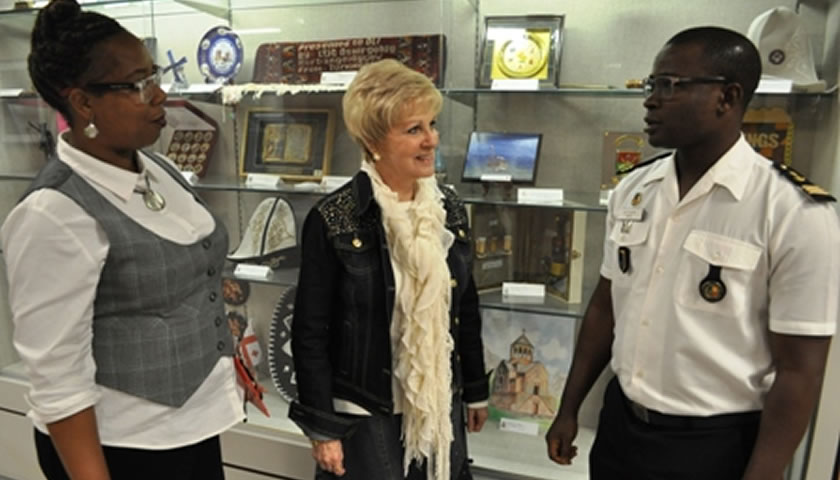 Dawna Hollie (left), Ambassador of International Goodwill to Others (AMIGO) program manager, speaks with Jan Hall (center), an AMIGO sponsorship program volunteer, and Lieutenant Aboudou Ganihou Fadikpe (right), a Defense Language Institute English Language Center student at Joint Base San Antonio-Lackland. Photo by Spencer Berry
By Airman First Class Justine Rho JBSA-Lackland Public Affairs
The Defense Language Institute English Language Center at Joint Base San Antonio-Lackland drives the American Members of International Goodwill to Others, or AMIGO, sponsorship program to create an outlet for students to better learn about American culture and practice the English language. In creating this channel of communication, between students and volunteer sponsors, both parties mutually benefit in international relations and personable communication.
As provided by the DLIELC web-page, under the U.S. Security Assistance Program, the school's mission is to teach English to international military members; with tailored courses that address the specific language requirements of those students' career field. The DLIELC has students from more than 90 different nations at the school at any given time.
READ THE ENTIRE ARTICLE HERE
.